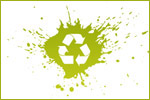 Volunteer Curbside Recycling Program Is 300 Customers Strong But Needs Your Help!
Posted on April 14th, 2014
The City's volunteer curb-side recycling program is growing but we really need your help in not disposing of medical sharps waste such as used syringes and needles in the blue bags that may cause injury to the collectors picking up the bags. Otherwise, the program is still available at no charge and we are still accepting sign ups. Please see the enclosed flyer as to what is and what is not acceptable for collection. Please feel free to contact us today at 817-626-5421 extension 332 for more information.
---
Return to the Previous Page